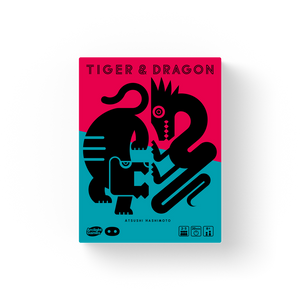 Players: 2-5
Time: 20 mins
Age: 8+
Unleash a barrage! Strike deep!
The ultimate kung fu showdown between martial arts masters is about to begin. This is "Tiger & Dragon"! In order to defeat your opponent, you must determine which skill you want to use as a finisher and which ones you should use while fighting. Asses your opponents' skills, find their weakness and begin your barrage!
 With only 36 numbered tiles and 2 special skill tiles, a simple, yet exciting and deep experience awaits. A variety of different play styles, including individual or team battles, can be enjoyed depending on the number of players. Based on the popular, traditional game of "Goita", Tiger and Dragon is a tile game that has been designed in a modern, easy to pick up style that you can play "1000 times". Who will be the last one standing on each of the 10 battlefields!?