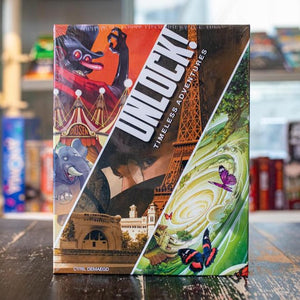 Players: 1-6
Time: 60 mins
Age: 10+
A cooperative card game inspired by escape rooms! Real life escape rooms challenge you to literally escape a room within 60 minutes. With UNLOCK! experience the thrills of escape rooms without setting a foot outside.
Unlock! Timeless Adventures includes three breathtaking adventures:
The Noside Show: The Diosen Circus is coming to town but Professor Noside has prepared a great sabotage act! Stop him. The show must go on! 
Arsene Lupin and the Great White Diamond: Experience a jewel race in the early 20th century Paris and take up the challenge of Arsene Lupin. 
Lost in the Time Warp! Professor Alcibiades Tempus' time machine works erratically. You must return the timeline to normal!