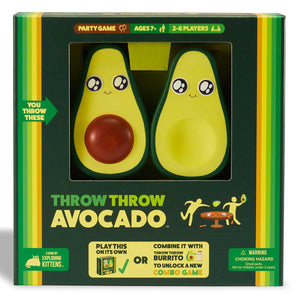 Player: 2-6
Time: 15 min
Age: 7+
Throw Throw Avocado is unlike any game you've played before. In this dodgeball card game, go head to head with your opponents collecting cards while throwing and avoiding squishy, adorable Avocados. Play Throw Throw Avocado as a standalone sequel, or use the BONUS deck of cards included and combine them with the cards from Throw Throw Burrito to unlock a new combo game using all four throwables!
A fun new sequel to Throw Throw Burrito, the world's first ever dodgeball card game.
Collect matching cards, earn points and throw avocados at one another.
A family friendly party game perfect for kids and adults with straightforward rules and easy to learn gameplay.
Includes 120 cards, instruction manual, 6 Avocado Boo Boos, 1 Fear Me Badge and 2 foam Avocados soft enough to throw at your Great-Aunt Martha.
Includes a BONUS combo pack of 36 cards that can be combined with your Throw Throw Burrito cards to play the ultimate, epic combo game.
Hilarious illustrations by Matthew Inman of The Oatmeal.