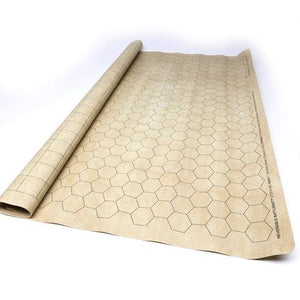 Chessex Megamats! 
Useful for nearly every roll playing game (RPG) and miniature game available today!
Made of durable expanded vinyl, which provides an ideal playing surface.
Rolls easily for travel yet lies flat for game play
Provides smooth, padded matte surface to protect your miniatures and dice
Draw your layout right on the surface with water-based pens; simply clean up with a damp rag
Well suited for role-playing and wargame design
Stain resistant: spills wipe away easily
1" Squares / 1" Hexes
These mats, first made available in 1981, have become the standard for vinyl game mats.
Use water-soluble overhead-projection pens!
(NOT dry erase, grease pencil, or permanent markers),
you can write on the vinyl and remove later with water when the adventure is done.