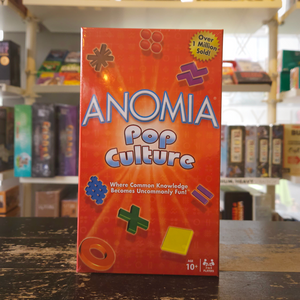 Players: 3-6
Time: 20-30 min
Age: 10+
The same rules as the original Anomia but now you need pop culture knowledge!

The directions are simple. Draw a card from the center pile and flip it over. Does the symbol on your card match one on another player's card? If so, you must quickly face-off with the other player by giving an example of the person, place, or thing on their card before they can do the same for yours. If you blurt a correct answer out first, you win their card and drawing continues. Sounds simple, right?

Wrong. Wild cards allow unlike symbols to match, increasing the number of things you must pay attention to. Cascading face-offs can occur when you hand over a lost card revealing a new top card on your play pile. All this adds up to a high-energy, hilarious play experience where everyone is involved at all times.