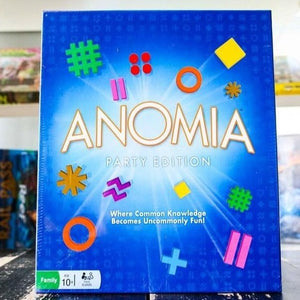 Player: 3-6
Time: 30 min
Age: 10+
Feed your Anomia addiction!
Diehard Anomia fans and novices alike will love the Anomia Party Edition, featuring 6 all-new decks and over 425 unique categories, plus customizable blank cards for adding your own categories in every deck!
Play the Party Edition decks on their own or intermingle them with the original decks for hours of mad fun!
Anomia is simple. Players flip cards in turn until the symbols on two players' cards match. Matching players must race to give an example of the category on their opponent's card. Whoever blurts out a correct answer first wins their opponent's card, and drawing continues.
Sounds easy, right? Think again! Wild cards create unexpected matches, and face-offs can cascade when you lose a card, revealing a new match. Pay attention - it could be your turn at any time!