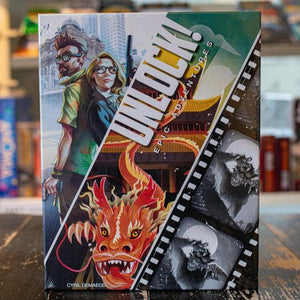 Players: 1-6
Time: 60 mins
Age: 10+
A cooperative card game inspired by escape rooms! Real life escape rooms challenge you to literally escape a room within 60 minutes. With UNLOCK! experience the thrills of escape rooms without setting a foot outside. 
Unlock! Epic Adventures includes three hair-raising adventures: 
The Seventh Screening: Grab your popcorn! Tonight, the horror movie "The Werewolf's Final Night" premieres. Will you get through unharmed?
The Dragon's Seven Tests: The Gold Dragons temple welcomes every seven years new disciples. Be worthy of Master Li's teachings.
Mission #07: EAGLE, the secret organization has been infiltrated. Agents, it's up to you to identify the mole!